PREPARE ALL SCHWAB'S FAVORITES

Cooking a Schwab's Hickory Smoked Turkey is a very simple process. Learn the process here.

Looking for the perfect hickory smoked prime rib recipe? Give this a go.

Schwab Meat Co.
Our family has been serving remarkable smoked sausages and meat to Oklahomans and travelers alike since 1912. We continue to uphold the values set before us and produce only the highest quality, traditional, "old world" sausages and meat products.
KEEPING IT IN THE FAMILY
The Schwab business has been passed down through 5 generations of Schwabs, and so have our beloved family recipes.
100% REAL HICKORY SMOKE
They didn't have artificial smoke liquids or flavors when we started back in 1912. All we had were our smokehouses, which is all we still need.
OLD WORLD FLAVORS.
NEW WORLD OPTIONS.
While we haven't changed any of George's original recipes, we've certainly added a few items that are making his mouth water beyond the grave.
Ship to Your House or Come to our Downtown OKC Location.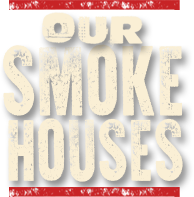 Smoking 30,000 lbs. of meat every day, our five smokehouses are a true part of the Schwab Meat spirit. Three of our smokehouses have been continuously smoking meat for over four decades, which gives our hickory smoked meat the timelessness that's made it an Oklahoma staple.
WE'RE IN ALL YOUR FAVORITE
OKLAHOMA EATERIES

JOHNNIE'S CHARCOAL BROILER
A relationship older than the restaurant itself. You're going to love the #14 with Johnnie's famous sauce.
LEO'S BBQ
An extra smoky spin with an Oklahoma gas station turned local favorite. With a nickname like Grand Slam, Leo's Special is a must-try.